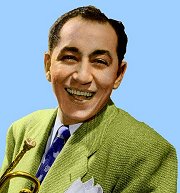 December 7, 1910 — August 24, 1978
Trumpet, Singer, Song Writer, Actor
Born on December 7, 1910 in New Orleans, Louisiana. Louis Prima was a trumpeter, band leader, singer, composer, and sometime film star. The son of Italian immigrant parents Angelina and Anthony Prima. He was educated at Jesuit High School, and studied the violin for several years under Hemmersback, before switching to the trumpet. At the age of 17, Louis was inspired by such jazz greats as Louis Armstrong and King Oliver. He aquired his first job as a singer and trumpeter in a New Orleans theater - his older brother, Leon, also played trumpet at a local night-spot. In the early 30s Prima worked with Red Nichols, before forming his own seven-piece group called 'New Orleans Gang', with its signature tune, 'Way Down Yonder In New Orleans'. They recorded more than 70 titles in New York for various labels from 1934-39, some of which made the US Hit Parade.
By this stage, Prima was also composing songs, and one of them, 'Sing, Sing, Sing', when developed by Benny Goodman, became a smash hit, and remains a Swing Era classic, as is 'Jump, Jive, and Wail.'
Through the years, Prima wrote and co-wrote many other songs, including 'Robin Hood', which was a success for Les Brown in 1945. Also in 1945, Prima had engagements at Frank Dailey's Terrace Room in Newark New Jersey. He also wrote the 1947 Jo Stafford hit, 'A Sunday Kind Of Love'.
After making an good impression in his feature film debut in the Bing Crosby movie musical Rhythm On The Range (1936), Prima continued to have relatively small, but telling roles in a number of other movies, notably Rose Of Washington Square (1939), in which he enhanced Alice Faye 's rendering of 'I'm Just Wild About Harry' with his ebullient and exciting trumpet accompaniment. By this time he had his own big band which he fronted with great showmanship and panache. 40's Prima hits included 'Angelina', 'Bell-Bottom Trousers' (vocal: Lily Ann Carol), and 'Civilization (Bongo, Bongo, Bongo)', an amusing novelty from the 1947 Broadway revue 'Angel In The Wings". In 1941 Prima and his orchestra had an engagment at the Trianon Ballroom in Seattle Washington, one of the songs performed there was 'Sing Sing Sing' and featured a 16 year old drummer named Jimmy Vincent, who went on to perform with Prima right on through the Vegas years.
In 1948, Prima began working with the poker-faced 16 year old singer Dorthy Keely Smith daughter of Fannie and Jesse Smith, she was born in Norfolk, VA. After having a hit in 1950 with their joint composition 'Oh, Babe!', they were married on July 13, 1953 and had two daughters,Toni Elizabeth and Luanne Frances. Keely was his fourth wife.
Prima's forte was not subtlety. His singing and arrangements take influences from Dixieland, Jazz, and quite often Rock and Roll. Many times he devised medleys of two tunes at once. Often he scat-sang, with Sam Butera trying to copy him note for note. Another hallmark is Prima using songs from his Italian heritage.
During the next decade they were recognized as one of the hottest nightclub acts in the USA, and became known as 'The Wildest Show In Las Vegas'. Prima's inspired clowning and zany vocals delivered in a fractured Italian dialect, coupled with Smith's cool image and classy singing, were augmented by tenor saxophonist Sam Butera and his group, the Witnesses. A typical performance was filmed at Lake Tahoe in 1957, and released under the title of The Wildest, and they reassembled in 1959 for the feature Hey Boy! Hey Girl! Prima and Smith were awarded Grammys in 1958 for their inimitable reading of the Harold Arlen - Johnny Mercer standard, 'That Old Black Magic'.
In 1958 Prima was briefly in the UK Top 30 with Carl Sigman and Peter de Rose's 'Buona Sera', and two years later made the US singles and albums charts with the instrumental 'Wonderland By Night'. Other Top 40 albums included 'Las Vegas-Prima Style' and Hey Boy!, Hey Girl! In 1961, while still at the height of their fame - and having recently signed a multi-million dollar contract with the Desert Inn, Las Vegas, the couple were divorced, he then married another girl singer Gia Maione, and continued to work in Vegas through 1967.
In 1967 Prima and Butera subsequently attempted to cash in on the then-popular dance fad by appearing in the movie 'Twist All Night', which sank without a trace in spite of items such as 'When The Saints Go Twistin' In'. Most memorable was Prima's contribution in 1967 to The Jungle Book , the Walt Disney Studio's first cartoon feature in four years, which went on to gross about $26 million. Prima provided the voice of the orang-utan King Louie, and sang the film's hit song, 'I Wanna Be Like You'. As a result of Phil Harris' and Prima's success with the Jungle Book movie, they cut two albums "The Jungle Book", on Disneyland records and "More Jungle Book". The combination of receipts from both albums led Prima to a gold record.
In the later years Prima mostly confined himself to performing with a small group at Casino's such as the Sands Hotel, Las Vegas. In the early 1970s Prima's act was no longer a crowd drawer as in the old days in Vegas, so he moved with Butera back to New Orleans, getting steady work for the tourist crowd.
In October 1975 underwent surgery for the removal of a brain tumor. He never regained consciouness from the operation. Disabled and incapable of communicating remained in a coma until in early July of 1978 he contracted pneumonia. Fed through a tube and given hoards of antibiotics, he was given his last rights. Prima a strong willed man hung on for another six weeks until he died from complications due to the brain stem tumor on August 24, 1978 in a New Orleans nursing home. He is buried in the Metairie Cemetery in New Orleans, Louisiana along side his mother and father Anthony (died 1961) and Angelina (died 1965) Prima.