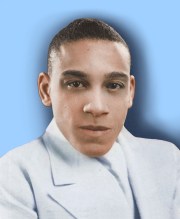 February 10, 1905? — June 16, 1939
Drummer, Band Leader
Webb was born in Baltimore, Maryland to William H. and Marie Johnson Webb. He suffered from childhood tuberculosis, leaving him with short height and a badly deformed spine. He supported himself as a newspaper boy and saved up money to buy drums, and first played professionally at age 11.
At the age of 17 he moved to New York City and by the following year, 1926, he was leading his own band in Harlem. Jazz drummer Tommy Benford said he gave Webb drum lessons when he first reached New York.
He alternated between band tours and residencies at New York City clubs through the late 1920s. In 1931, his band became the house band at the Savoy Ballroom. He became one of the best-regarded bandleaders and drummers of the new "Swing" style. Drumming legend Buddy Rich cited Webb's powerful technique and virtuoso performances as heavily influential on his own drumming, and even referred to Webb as "the daddy of them all". The Savoy often featured "Battle of the Bands" where Webb's band would compete with other top bands (such as the Benny Goodman Orchestra or the Count Basie Orchestra) from opposing bandstands.
Webb married a woman named Sallye, and in 1935 he began featuring a teenaged Ella Fitzgerald as vocalist. He formally adopted her.
In November of 1938, Webb's health began to decline, and from then until his death he alternated time on the bandstand with time in hospitals. He died the following year in Baltimore. After his death, Ella Fitzgerald led the Chick Webb band for the remainder of the swing era.