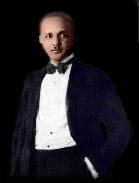 Dec 18,1898 — Dec 28,1952
Pianist, Band Leader, Arranger
Fletcher Henderson was born December 18th, 1897, in Cuthbert, Georgia, USA, and died December 28th, 1952 due to a stroke.
A pianist and arranger, and the most commercially successful African American musician of the 1920s. One of the most important figures in the development of big band jazz, his orchestra's unique sound was a pre-cursor to the style that would come to be known as swing. This was done through a combination of selecting leading jazz players for his band, as well as creating (with Don Redman) a format for big band arrangements that was taken up by all but a handful of arrangers in the next 30 years.
Henderson became a bandleader almost by accident, and an arranger by circumstance, rather than by deliberate intent. Unlike many other jazz musicians of the time, Henderson was born to a stable, middle class family. After gaining a degree in chemistry at Atlanta State University, he travelled to New York, in 1920, for post-graduate work. He soon found out that finding a job in chemistry would be nearly impossible because of his race. Determined, and in need of a means to support himself, he began to work as a song-plugger for the Pace-Handy Music Company. Then he became manager of Harry Pace's Black Swan Record Company, playing piano on many of the company's record dates.
He next put together a band with which to accompany Ethel Waters on tour. In 1924, he was leading a band at the Little Club near Broadway, a popular nightspot known by its frequenters as the "Club Alabam." The band was actually a loose-knit collection of like-minded musicians who elected Henderson as leader because, as Redman put it, "He made a nice appearance and was well-educated and we figured all that would help in furthering our success". That same year, he took the band into the Roseland, one of New York's most famous ballrooms, on a four year contract. Henderson's connection with the Roseland would continue off-an-on for ten years.
In those days, success lay along the path charted by Paul Whiteman, offering the public a selection of tangoes, waltzes and other popular dance tunes. Labeled as "the coloured Paul Whiteman,' Henderson's was barely recognizable as a jazz group, despite the presence of outstanding jazzmen such as Coleman Hawkins. However, the band underwent a dramatic musical change when Louis Armstrong joined the band. Armstrong stayed for about a year, leaving near the end of 1925. Armstrong's brief stay, however, influenced Don Redman into completely rewriting the way he wrote his arrangements for the band. Redman's charts imitated the polyphonic New Orleans style of ensemble playing, pitting one section against another and giving full rein to the solo talents of the individual musicians.
By 1927 the band was the most talked-about in New York. Its historical importance was aptly stated by Leonard Feather: "Henderson's was the first large band to acquire a wide reputation by playing jazz." Most of the dance orchestras were concerned merely with the commercial success obtained by playing popular tunes in a conventional manner. Jazz was being crowded out by commercialism--Eddie Condon complained, "The only place we could play was in our rooms, at our own request"--and it's incorporation into the framework of the large dance band was achieved only by the talent of such leaders and arrangers as Fletcher Henderson and Duke Ellington.
Henderson was ambitious for success, even though he was not an especially astute businessman and had a pleasant unaggressive manner. His circumstances were about to alter in a way no one could have forecast. In mid-summer 1927 Redman left to become musical director of McKinney's Cotton Pickers. His departure meant that Henderson had to take up the bulk of the arranging duties for the band, a task he performed admirably. Unfortunately, in 1928 he was involved in a road accident and while his physical injuries were slight he underwent a change of personality. As his wife later said, "He never had much business qualities anyhow, but after that accident, he had even less". The most obvious effect of the change was that all ambition deserted him, leaving just an easygoing, casual individual. In the brashly commercial world of early 30s big band music this was not the way for a bandleader to achieve success.
In 1929 Henderson's lackadaisical attitude caused a mass walk-out by his star performers, but the following year he re-formed and tried again. Despite the departure of Redman, Henderson had continued to write skilful arrangements, developing ideas for saxophone voicings which, given the fact that he mostly used only a three-piece section, were remarkably intricate. The 1931 Henderson band was an astonishing array of top-flight jazzmen, with the rest of the decade seeing Henderson leading star-studded bands.
However, despite the quality of the charts and the stature of the men in his band, Henderson's star was fast-waning. His indifference to commercial considerations rubbed off on his musicians and led in turn to disaffected and diminishing audiences. By 1939 Henderson had had enough of falling attendances, hassles with promoters, unrest in his own ranks and all the many pressures that came the way of big band leaders during the swing era. He folded his band and joined Goodman as staff arranger and pianist.
This was a historic occurrence, because it marked the first time that a "white" group hired a "black" musician to play in an orchestra. Some of his most celebrated arrangements were made for Benny Goodman, among them "When Buddha Smiles," "King Porter Stomp," "Blue Skies," and "Down South Camp Mereting." During the 1940s he continued to write for Goodman and others, and once in a while formed a band for special dates. In 1950 he fell in the street, apparently as the result of a stroke. Partially incapacitated, he lived for a further year or so, dying on 28 December 1952.